Soap Nuts...
(August 17, 2011)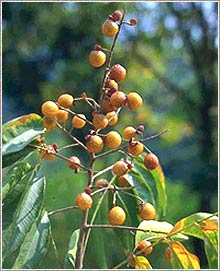 The name tells all...these are little nuts that you can use as soap (laundry soap to be exact)! Here are some FAQs from the site I love to order them from:
Q: What is a Soap Nut?
A: Soap Nuts are actually not nuts. They are berries from the Chinese Soap Berry Tree (Sapindus Mukorossi). These berries grow on trees, and then are dried in the sun. There are no chemicals added. Soap nuts are then added to your laundry to be used instead of chemical laundry detergents.
Q: How do they clean my clothes?
A: Soap Nuts contain a chemical called Saponin. Saponin is a natural soap and surfactant. It is hypoallergenic and totally eco friendly.
Q: Do Green Virgin Soap Nut products work in hot, warm & cold water?
A: Despite what you may have read elsewhere, Green Virgin Soap Nuts work in all water temperatures. We recommend washing in cold water with our soap nuts, as cold water saves money and lowers your carbon footprint which helps our planet.
Q: Do Soap Nuts clean as well as Tide and other chemical detergents?
A: Absolutely, they clean every bit as good as whatever brand you were using before. You will save money and not risk your health or the environment.
Q: Do I have to remove the soap nuts from the washer during the rinse cycle.
A: No, but you can if you wish. Leaving them in will make your clothes feel even softer and fluffier. Removing them might give a few extra wash loads.
Q: Are soap nuts safe for new born babies clothes, diapers and blankets etc?
A: Yes, soap nuts are not only safe for babies -- you should never expose a baby to toxic chemical laundry detergents, fabric softeners or dryer sheets. You should never use chemical detergents to wash anything that will even come near a baby. Soap Nut products can even be used by people with very sensitive skin. Even those who are allergic to products should be fine with Soap Nuts. In fact, chemical laundry detergents, fabric softeners and dryer sheets are highly toxic and can cause all kinds of illnesses including cancer and sudden infant death syndrome. To verify this just Google "laundry detergent health hazards" or click on the health in the news button on this site.
Q: I am allergic to nuts -- can I still use Soap Nut products?
A: Yes you can. Soap nuts are actually not nuts; they are more like berries. They grow on the Chinese Soap Berry Tree and are sometimes call Soap Berries. Soap Nuts is just a nickname.
(www.greenvirginproducts.com)
So why do I personally love soap nuts? Well, with a one-year-old and baby-on-the-way I am always on the lookout for natural/cheap ways to clean and those two things do not always go hand-in-hand. A friend of mine actually bought a bag of these one day and we weren't too sure if they were to be trusted or not. After many months of putting off trying them we both read about great, safe, cheap (or at least cheaper) products for washing things like baby clothes and cloth diapers...and we found a link about soap nuts! Since we already had a bag (she bought them and generously shared) we decided to try them out....and it's been love ever since.
There are a few things you should know: 1. Before using these or switching to any other natural washing method your machine must be thoroughly cleaned out because of residue build-up. Apparently residue builds up and then releases during the spin cycle making it absolutely ridiculous to wash with a natural detergent (or in our case wash the baby clothes with natural stuff and other things with 'regular' stuff)...because whatever has been used in the many years you've owned your washer is probably still in there! (see below for instructions on cleaning our washer). 2. They do not really have a 'scent' so if you're extremely fond of clothes that smell a particular way I would suggest getting some pure essential oil (find it at a health food store or Whole Foods) in the fragrance of your choice and putting a few drops on the bag that goes in the wash with the nuts. 3. They don't help with static (but what natural laundry soap alone does?), so you may want to find a natural dryer sheet to compliment them. We use Method Baby dryer sheets which last for two loads each.
Ok, so for purging the washer of all filthiness:
Step 1 - With your machine empty, run it full of hot water to the largest load setting. When the tub is full and begins to agitate, add 3 to 4 cups of distilled white vinegar to the water. Then add cup of baking soda. Allow the machine to agitate for a few moments, then turn off the machine. Let the water sit for thirty minutes to one hour.
Step 2 - After allowing the vinegar/baking soda mixture to penetrate the grime in the washing machine tub, restart the machine, allowing it to complete the wash cycle. At the end of the wash cycle, as the tub begins to drain, advance the washing machine to the spin cycle. On many washing machines, this will cause the washing machine to spin as it drains, which can help to further loosen any residue. If yours doesn't do this, simply allow it to drain. Turn off the machine.
Step 3 - Wipe the inside of the washing machine tub with a wet cloth. If desired, use a cloth soaked in a solution of half hot water and half white vinegar. Be sure to wipe all inside surfaces, including the bottom and blades of the agitator and the top of the tub just under the lid. (It is sometimes helpful to use a wire toilet brush around the top rim and in hard-to-reach places.) If the washing machine has a fabric softener and/or a bleach dispenser, remove these and clean thoroughly before replacing. (Thanks to:
http://www.associatedcontent.com/article/397607/how_to_clean_your_toploading_washing.html)
So get to cleaning! I am a really big fan of these not only because they are natural, but also because they are cheaper and you can even find them fair-trade from places like Ten Thousand Villages.
Kaely